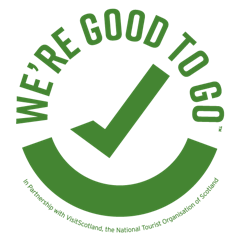 Supporting local and independent is more important now, than ever
Dining at Urban Angel
New guidelines in our Edinburgh cafe

We are pleased to confirm that we have been approved for the UK Government's hospitality accreditation scheme We're Good to Go.

This accreditation supports businesses in actioning best practice to give customers confidence to dine out again. It is a detailed and comprehensive guide with a clear checklist that we have studied and actioned.
The health and wellbeing for our customers, our suppliers and our team is at the heart of these best practices and everything we do.
We are so looking forward to welcoming you back and truly thank you for your support.
What to expect when you next visit
1. Bookings
2. Walk-ins
We still welcome walk in customers but we will ask for a name and email contact or telephone number, to be able to support NHS Trace & Protect.
3. Outside seating & courtyard
We have a couple of tables at the front of the café.
We have a pretty little back courtyard that can currently be booked for groups of up to 8 to use privately.
4. Limited seating
We have reduced the number of tables we will be seating in the café to allow for physical distancing. We have a lot of naturally divided space in our café throughout different rooms. This allows for secluded tables in the corner of each room to allow for a high degree of separation and safety.
We will be keeping all doors and windows open whenever to allow maximum airflow and ventilation.
5. Hand sanitsers
Alcohol based hand sanitising gel is available at the entrance and throughout the café.
6. Face coverings
We respectfully ask that guests follow Scottish Government guidelines of wearing face coverings in shops, until you are seated at your table.
Our front of house team will be wearing face masks for everyone's safety.
7. Social distancing
We will be following the 1m+ guidelines implementing all mitigations required.
8. Ordering & menus
All our menus are available online (brunch, lunch & evening, coffee, drinks).
We have a new table ordering menu system so you can order and pay from your phone.
We will always have single fresh paper copies of our menu available if you prefer.
9. Additional cleaning
We have increased the frequency of cleaning & disinfecting of all surfaces and significant areas i.e. handrails etc throughout the day. This will be happening every hour and at any other spare moments in between.
Tables, chairs and anything that goes to the table will be thoroughly cleaned between customers.
As a food business best hygiene practice is at the heart of what we do every day. We will be applying this with increased vigilance.
10. Facilities
We have implemented enhanced cleaning measures to increase the frequency of cleaning and disinfecting washrooms including all surfaces and areas of particular concern throughout the day.
Our team is trained in appropriate cleaning methods and disinfection for all these areas.
11. Paying your bill
We ask you to pay contactless or from your phone if possible.
12. Our team
Our whole team is delighted to be back, and to welcome you back.
We have quite small working spaces so we have altered shift patterns and tailored our new menu to ensure safe working environments and practices for our team.
Every team member has gone through new enhanced hygiene training.
13.  Temperature checks
We will be temperature checking all team members before they enter the café as they arrive at work each day.
We are constantly looking at each area, and doing everything we can to ensure that dining at Urban Angel is still the best experience possible.